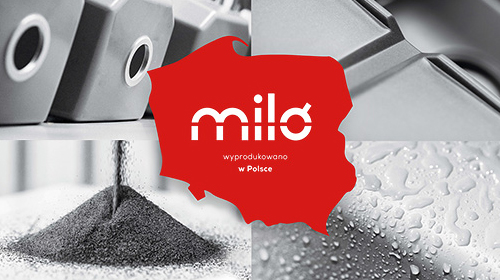 MILÓ COMPANY
MILÓ is a Polish brand, a producer of high class granite sinks. Following the needs of our clients we combine thoughtful and unique design with functionality. We employ modern production technologies and use materials of the highest quality.
MILÓ KITCHEN
MILÓ has been enhancing the appearance of kitchen space for many years and has made it possible for us to enjoy time spent in the kitchen. Care for the highest standards of production allows us to offer products combining aesthetics and performance. Produced in Poland, they satisfy the expectations of even the most demanding of customers.
20%
the highest quality of resins
80%
Precise mixture of certified European quartz aggregate
The DURAQUARZ formula is a unique combination of quartz extracted from European deposits and suitably selected resins. The quality of the components used leads to their durability, as well as their high resistance to scratching, chemical substances, damage and temperature changes. The careful selection of the constituent parts of DURAQUARZ gives the material flexibility and therefore eases the process of designing models.
The highest quality components
High resistance to impacts
High resistance to discoloration
High resistance to scratches
UV protection
Safe for food contact
High resistance to thermal shock
High resistance to chemical agents
High temperature resistance up to 280℃
MILÓ Studio Design
Made in Poland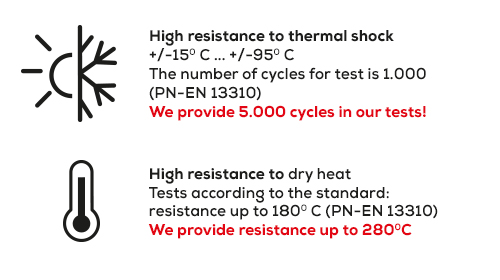 TESTS HIGH RESISTANCE
We have a fully equipped laboratory in which we carry out physical, chemical and mechanical tests on finished products in accordance with the current quality norm EN 13310.
We check the resistance of our sinks to high temperature, thermal shock, impact, scratching, abrasion and the effects of chemical substances and many others.
INSTALLATION OF THE SINK
If you plan to install a granite sink inset into the worktop on your own, watch this film in which we remind you in a straightforward way what to pay attention to before starting work. You will find out amongst other things what tools you will need during the installation, how to prepare the kitchen worktop before the cutting out of the hole, but not only that. We will tell you also what you need to remember when you install a mixer tap and siphon. You will see for yourself that it is really simple. We invite you to watch our film.
We invite you to watch another movies, with practical tips:
what the process of making sinks looks like?
Have you ever wondered what granite sinks are made of and why they are characterised by such resistance to various external factors? In this film we show you step by step what the process of their creation looks like and what the high level of comfort from their daily use comes from.
HOW TO CHOOSE A sink?
A kitchen which opens onto a living room is more and more often becoming an important part of the decor of flats and houses. It is a place in which we not only prepare meals but also spend time with our loved-ones. It is therefore worth attending to the smallest detail. We try to make sure its fittings are well thought out not only in a practical sense but also in an aesthetic one too. We invite you to watch our film, in which we advise you what to pay attention to when choosing a sink – an essential element in every kitchen.
How to drill holes in a sink?
The holes in a granite sink can be drilled in a variety of recommended optional places. It can also be done independently, in your own home, using a diamond hole saw with a diameter of 35 mm. We invite you to watch a short film in which we show some possible solutions.
How to correctly assemble a siphon?
The assembly of a classic siphon for a single-chamber granite sink is easier than you think. Where to start? Read carefully the assembly instructions of the siphon, which are attached to the packaging and make sure that the set of parts is complete. Now you can get started. We hope that the animation which we have prepared will make the assembly process easier. At the same time we invite you contact our service department if there are any additional questions. (The code of the siphon shown in the film is: OSP.0.0020)