Our products are a combination of the aesthetics you desire, the quality you require and the functionality you need.
About Us
MILÓ is a Polish company and manufacturer of high-quality granite sinks. Following the needs of our customers, we combine a skilful and unique design with functionality. We apply modern production technologies and use high-quality materials. As a result, our customers receive products that not only provide maximum comfort, but also decorate your kitchen for many years.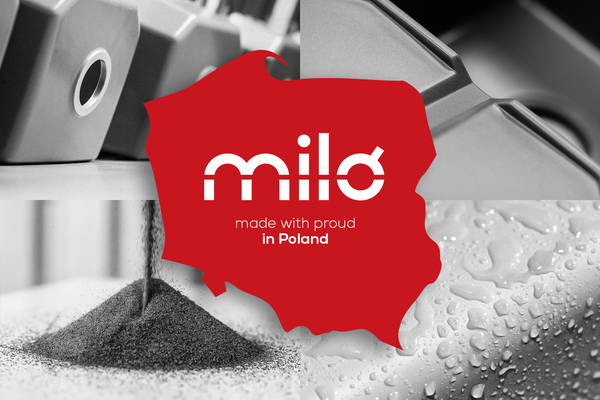 MILÓ has quickly become a leading producer for many national and international companies. We are a professional and trustworthy partner, regardless of whether cooperation applies to producers, distributors or designers, at all stages of the project. Our aim is to build reliable and lasting business relationships, where experience and appropriate competences are key elements.
COOPERATION OEM (ORIGINAL EQUIPMENT MANUFACTURER)
It is a perfect solution for the customers expecting ready-made solutions for direct sale. The portfolio offers a possibility of cooperation for companies wishing to choose appropriate models from a wide range of our products. The diversity of dimensions, shapes, colours, styles and functional parameters guarantees a suitable choice.

COOPERATION ODM (ORIGINAL DESIGN MANUFACTURER)
We offer a complete model of cooperation also for those customers who wish to implement their own sink designs, at the same time guaranteeing confidentiality and safety of disclosed data. We provide support at each stage of cooperation and we also analyse designs, look for the best design solutions on the basis of our experience, consult and implement the production stage. The whole process is conducted internally, starting from a mould, which is in compliance with the design, to launching production and obtaining the final product.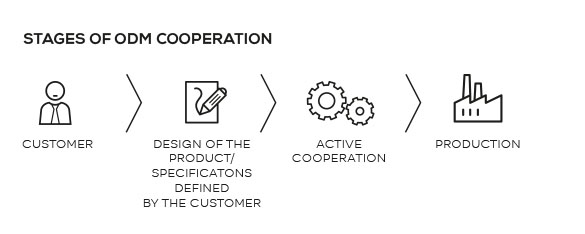 CSR - Corporate Social Responsibility
We are aware of the importance of the Corporate Business Responsibility. It is a search for synergy in economic, environmental and social areas. All of these aspects are equally important as their implementation enables us to run a conscious and responsible business and thus build a better competitive position. All these aspects have the same foundation – ethical values.
Not only does our social responsibility mean compliance with all legal and formal requirements, but also constant search for beneficial solutions for the environment. This means that the investment in human resources, environmental protection and relationship with the surrounding community are increased.
ENVIRONMENTAL DIMENSION
• we reduce water consumption by 99% during production thanks to a water treatment plant,
• we use post-industrial waste
• we sort waste
SOCIAL DIMENSION
we take care of safe and hygienic working conditions
we fund courses and training that improve qualifications of our employees
we financially support public benefit organisations
we implement anti-mobbing, anti-discrimination and anti-corruption procedures in the company
ECONOMIC DIMENSION
• we constantly improve the production process which translates into the reduction of production costs and carbon footprint
• we build positive and lasting relationships with our customers
• we combine the quality of our products with a reasonable price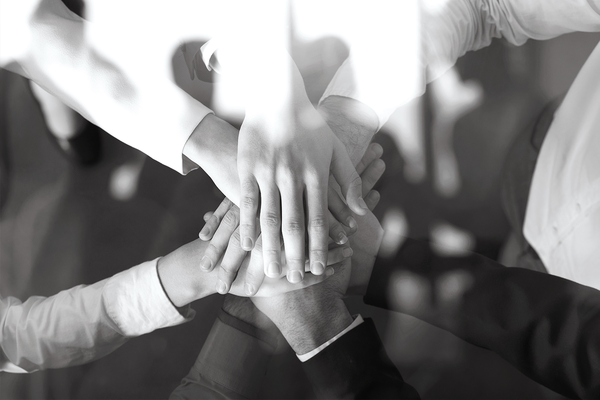 WHAT DISTINGUISHES US ON THE BACKGROUND OF OTHER MANUFACTURERS?
MILÓ DESIGN STUDIO
MILÓ's design studio can boast of fully professional graphical tools. We design solid models and prepare visualisations of our products in natural spaces. At the design stage, we can also schedule a production cycle.
On the basis of our original mixture technologies and moulding parameters, we are able to simulate mass distribution in a mould. As a result, we detect possible costly errors at the stage of preparation of production tools. All the elements confirm one of our basic assumptions: "adequately prepared design is the key to effective production and satisfaction of the customer obtaining a high-quality product on time."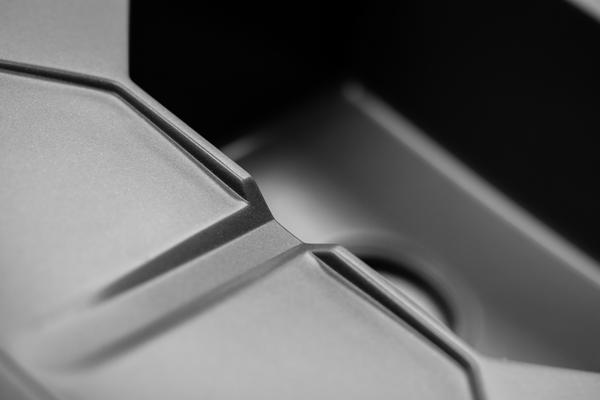 RAW MATERIALS
It is not only advanced design processes and technological innovations that are the key success factors of our products.
Our technologists need materials which provide the greatest possible flexibility and space for innovation. This is why, raw materials are fundamental. This is a precise mixture of European certified quartz aggregates with top quality resin. Owing to this, sinks are durable, resistant to scratch, high temperature, discoloration or solar radiation.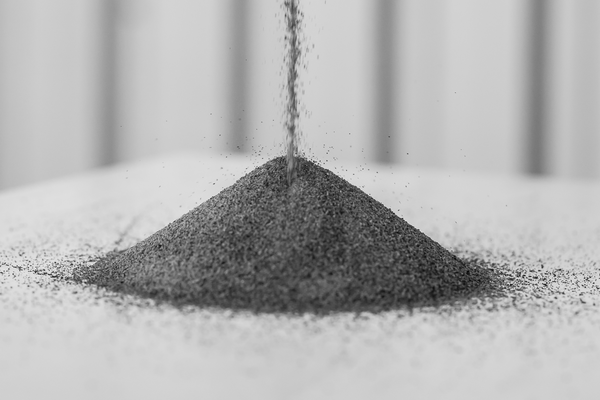 FLEXIBILE COOPERATION
We respond to your needs. Depending on the provided guidelines, we adapt the product to specific requirements; number of drills or type of grinding.
We cooperate with many suppliers of additional components: batteries, siphons or kitchen accessories. We provide complete order handling services.
We have also implemented an innovative packing system which reduces used space by even 50%.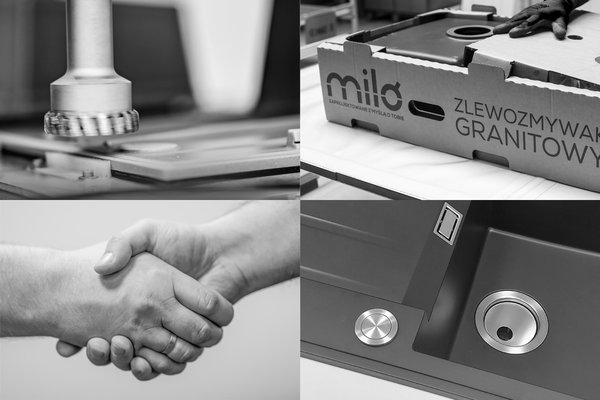 100% QUALITY CONTROL
Well-thought-out technological solutions applied during the production process guarantee repeatability of the products. Each product is covered by a multi-stage quality control system.
We work on the basis of the approved international standards in accordance with standards applied by our customers. Quality management in our company does not end at the production process. It also applies to the packing and storing stage as well as appropriate preparation of products for safe domestic and international transport.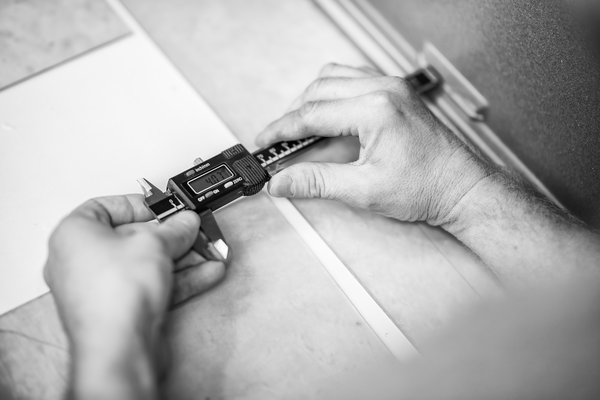 LABORATORY TESTS
We check each batch of supplied raw material and save the machine operating parameters used in the production process. As a result, we have the ability to verify and later exclude errors.
We have a fully equipped laboratory in which we conduct physical, chemical and mechanical tests on finished products, in accordance with the applicable EN 13310 standard.
An illustrative scope of tests:
Resistance to:
- high temperature
- thermal shock,
- impacts,
- loads,
- scratches,
- abrasion,
- chemical action.
Flow capacity.
Ability to clean easily.
Drainer inclination angle
And many others…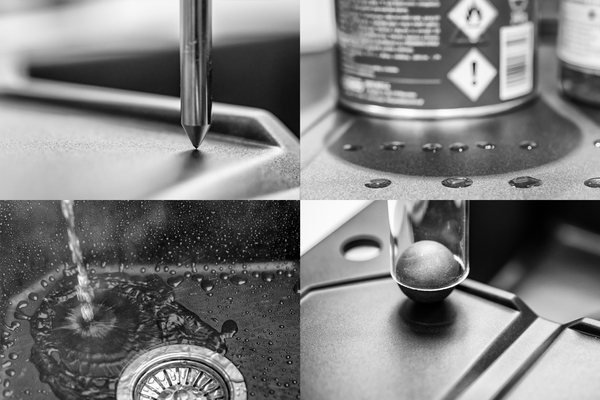 TEAM
It is people that build the company. At each stage, starting from the concept for a design to reaching the customer, it is people, their skills, creativity and precision that count the most. Our secret of success is the skilful combination of technological possibilities with human potential and involvement. All our departments, such as Customer Service Centre, Design Department, Commercial Department, Sales Department, IT Department, Quality Control Department, Complaints Department or Marketing Department, consist of experienced people creating the quality of MILÓ.